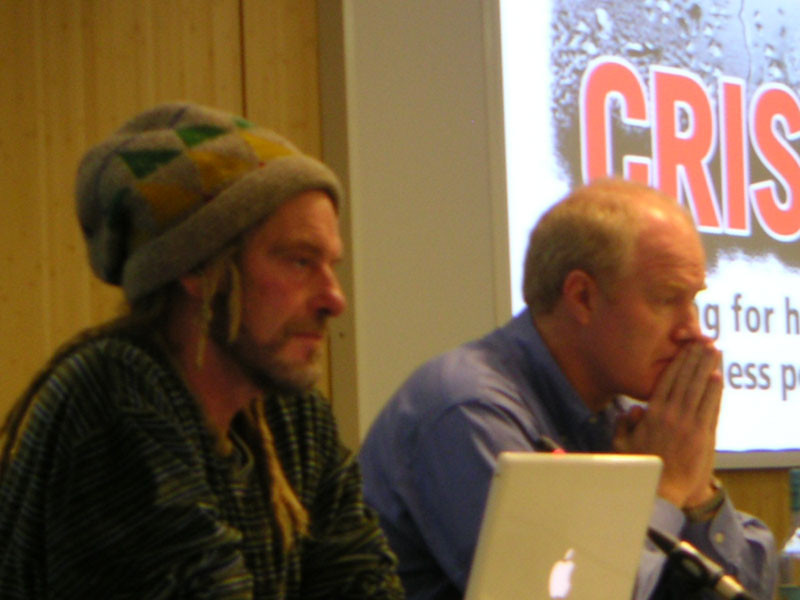 Jack Tafari and Michael Woolcock share the podium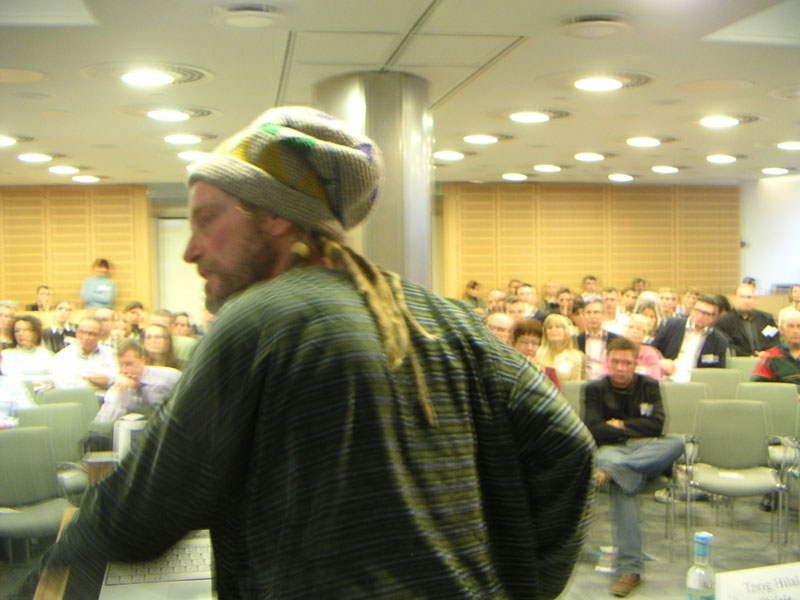 Tafari addresses the conference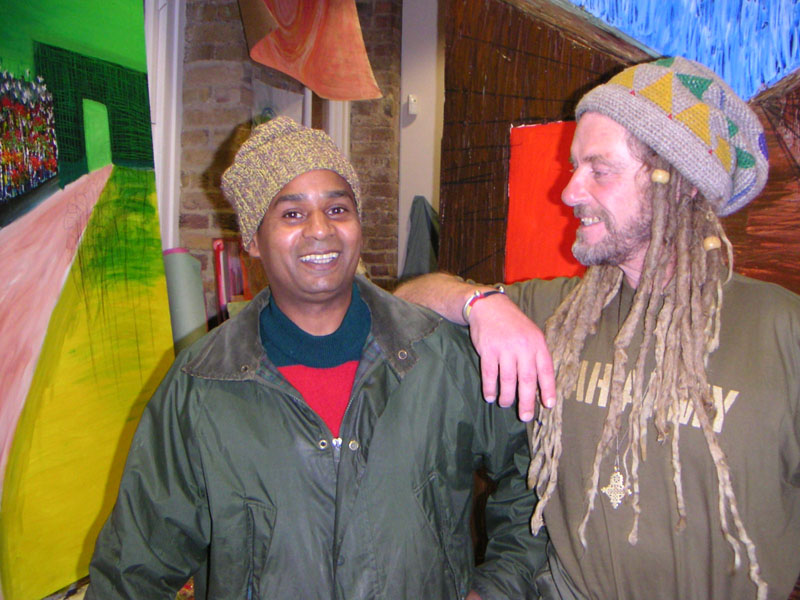 Homeless artist Kristian and Jack at Crisis UK's Skylight Centre
***************************************************************
This past October, I accompanied Dignity Village chairman Jack Tafari to the CRISIS Innovations Fair on homelessness and social exclusion. Jack gave the opening address alongside World Bank economist, Michael Woolcock. It was an interesting paring as both presented drastically different takes on the concept of compassionate conservatism, or as it is called by the World Bank, the process of increasing "social capital."
Social Capital, in Woolcock's definition, refers to the ability of the poor to 'network' with people in order to increase their access to goods, services, and political reform. "After all, it's not what you know, it's who you know," he chanted.
Woolcock proposes that the poor must develop three types of networks to sustain themselves. The first are relationships with similarly situated people in order to satisfy immediate survival needs, companionship and a "sense of belonging." The second are connections with people unlike themselves such as those "with a different religion or salary structure" in order to find out about employment opportunities. Once these are satisfied, he recommends that the poor network with those in powerful positions to try to gain political leverage and or greater access to services.
To this, I say, duh. It's impressive that a man can have such power, and influence, by signing his name to common sense. He believes that his "social capital agenda" represents a "radical" departure from the bureaucratized and technocratic reforms normally proposed by government and transnational institutions. In that sense, he might deserve a hearty pat on the back. But does his agenda represent any radical potentials for change or is it just an emphasis on the coping mechanisms of the poor in a structurally unjust system?
Local Portland activist, Helen Hill, responds to Woolcock by saying, "I think it's devaluing, dehumanizing, and missing the point to suggest that the concept of social capital means the poor, the fringe, the vulnerable, should seek alliances with those who are further up the vertical scale in order to put a roof over their head, save their soul, whatever. MAYBE, oh my, MAYBE one could humbly suggest to Mr. Woolcock that it isn't the poor and vulnerable who should work harder on their social climbing skills, MAYBE the problem lies in the system and in the unbalance created by those who've made it to the top of the vertical power network…"
Dignity Village chairman Jack Tafari was able to counter many of Woolcock's statements through a presentation of the formation and survival of Dignity Village, a tent city. He showed that Dignity Village is a successful demonstration of social capital in action according to Mr. Woolcock's definition. As an informal tent city, created through and continually sustained by networks at various scales (including the local government, public agencies, private businesses, advocates, environmental groups, media, and volunteers) Dignity has gained some measure of permanency and self-sufficiency.
He also demonstrated how Dignity recognizes people as capable managers of their own lives. Presiding over the administration, upkeep, and daily functioning of the place are Dignity Village residents and not outsiders. To this extent, Tafari agreed with Woolcock's analysis.
But Tafari was also careful to point out that Dignity Village is the only type of encampment of its kind in the country and should not be romanticized as typical. Even though Dignity's right to exist has been officially recognized by the local government, it remains in constant threat of eviction, relocation, service removal and punishment. The very real potential of political shifts mean that it lives in a constant state of uncertainty.
In addition to demonstrating the success of Dignity's project, Tafari pointed to the very serious bias against homeless in America. Before discussing strategies for their integration and networking, he explained, these biases must be reconciled.