Dignity Village Builds Another Solution!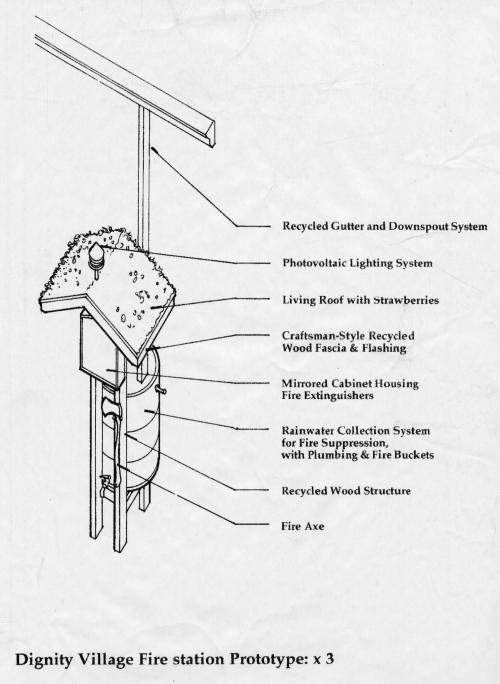 Dignity has done it again! Once again adversity has been converted into invention, with Dignity Village responding to the recent fire at the Village with a safety-oriented, creative, cost effective, environmental solution. This past weekend at the village saw the construction of four important new features of this self-help environment by and for homeless people. With the help of numerous volunteers, three environmentally-oriented firestations were installed as part of Dignity's self-development vision and safety initiative.

The firestations are so simple and effective to use that Portlanders will surely wonder why such amenities are not part of existing neighborhoods as well! They have been built at very low cost, using all recycled and donated materials from such sources as the ReBuilding Center, Hankin's True Value Hardware, Huser Safety Systems, and Portland Nursery. The design of the firestations feature extinguisher cabinets, rainwater barrells which collect water from Dignity rooftops, water buckets and fire axes, and they are topped by environmentally designed living roofs and photovoltaic lighting systems.

To find out more about the firestations or to view them, contact Dignity Village at http://outofthedoorways.org or phone us at (503) 281 1604. Dignity Village is located at 9325 NE Sunderland Ave, Portland, OR 97211, and we welcome all guests and visitors.