As this issue goes to deadline (5-4), activists from up and down the Coast gathered at the House of Santa Cruz Green Party insurgent Thomas Leavitt for a Santa Cruz Right to Sleep Summit. Their objective: to end Sleeping Bans in three states and support protective encampments like Santa Cruz's Camp Paradise, Portland, OR's Dignity Village, Seattle's Tent City III, and Isla Vista's Camp Home Sweet Home

Nancy McCradie of Santa Barbara's Homes on Wheels reported that Mayor Marty Bloom has joined their Board to actively a first-of-its-kind RV park which will serve hundreds (about half that City's "rubber tramp" population). "The ground-huggers [those without vehicles] are next, " promised McCardie.

Pioneered by former Santa Barbara Public Defender head Glen Mowrer has effectively busted the City's sleeping ban and its broader camping ban for those in vehicles using the Necessity defense, ratified at the appellete level in the Ridley-Cooper cases and at the state level in the Eichorn decision . Offering twelve-hours in a church with a forced sermon just simply isn't good enough pretext to roust those whose only affordable housing is their vehicle. Coming up next is to challenge local anti-homeless "thou shalt not sleep" by arguing state law takes precedence.

And the state "anti-lodging" law 647j is under attack in Sacramento and Berkeley. In Sacramento, SHOC (Sacramento Homeless Organizing Committee) firebrand Clifford Crooks called for a Sleep-In at the Sacramento State House with homeless families. "The Sleeping Ban is a Hate Crime" shouted "Protest" Bob Hansen. "In an election year, Davis will not risk the shame of enforcing this law if he is effectively challenged," said Crooks.,Berkeley, B.O.S.S. (Better Opportunities Through Self-Sufficiency) activist Michael Diehl is organizing protests and a prospective Rainbow encampment in the wake of last year's City Council victory. There, when more than a hundred supporters showed up at two successive meetings, the Council required City police to have one complaint and give two warnings before moving on those sleeping outside.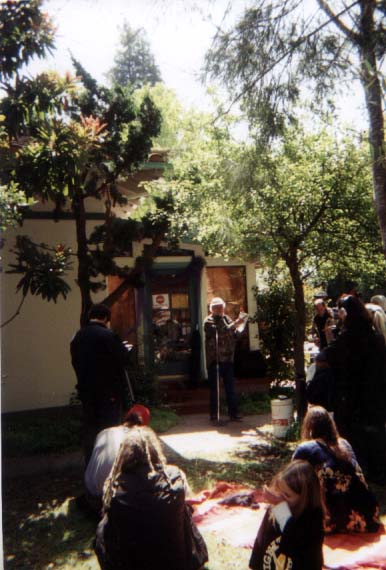 Terry Messman, editor of Street Spirit, speaks