April
April 16 street roots
Busse: Roll back laws that hurt homeless
Decriminalize homeless, Taylor says
April 18 Oregonian
Confrontation lacking in face-offs between Francesconi and Potter
April 15 issue of Westword
Pitching Tents
Gimme Shelter
April street roots
Denver's tent city gains ground on recognition
'Right to Sleep' rallies at City Hall
Jan 27 Libero magazine
Dignity Village
Jan 22 Denver Post
'Tent city' a can of worms
Jan 21 Denver Post
Homeless pitch idea of tent city to shelter up to 200 in Denver
Jan 7 Christian Science Monitor
For city's homeless, will it take a village?
Jan 3 Portland Indymedia
Homeless Crisis in Portland Briefly Invades Live Television During Storm Coverage
Dec 29 NBC Los Angeles
Police dismantle homeless encampment
Dec 28 Oregonian
Fire should serve as warning
Dec 25 Sacramento Bee
Homeless man didn't face discrimination, judge says
Dec 24 Sacramento Bee
Camper claims bias by sheriff
Dec 24 Oregonian
Fire strikes Dignity Village, underscoring safety needs
Dec 17 "Oregon Considered" on OPB
Elections Mark Anniversary At Dignity Village
November, Chuck Currie Web Log
Lars Larson & Dignity
Nov 27 issue of the Portland Mercury
Sweeping up the problem
Nov 27 Associated Press
Dignity Village: a social experiment reaches a crossroads
Nov 1 issue of street roots
Second tent city on the move to find a new home
Dignity Village submits long awaited proposal
Village overcomes another hurdle towards existence
Oct 24 issue of the Guardian
America's homeless become new small-town pioneers
Oct 24 issue of the Oregonian
Dignity Village seeks to stay for decade
Oct 23 issue of L'espresso
Baraccopoli Village
Oct 18 issue of the Oregonian
Governments fail the homeless
Oct 17 issue of street roots
From Doorways to Dignity: The story of Portland's tent city
Sep 19 issue of the Portland Tribune
Dignity Village faces 11th hour
Inventive house involves all hands
Sep 19 issue of Toronto's Globe and Mail
After Tent City, an apartment and a job
Sep 18 issue of the Oregonian
Portland extends deadline for Dignity Village to move
Sep 15 issue of street roots
Dignity Village has earned its place
Aug 21 issue of the Portland Mercury
We won't stand for it!
Aug 18 issue of The Nation
Hungry in America
Aug 15 issue of Portland Tribune
City crackdown breaks camp
Aug 15 post on Portland Indymedia
Portland Police Arrest Sit-Lie Protesters in front of City Hall
Aug 15 post on Portland Indymedia
Sit-Lie In at City Hall
August 15 issue of street roots
Wild card
Dignity activist gets out the vote
Groundswell News (preview)
Dignity Village builds its first straw bale house
July 24 issue of the Oregonian
Homeless tent city met with resistance
July 21 issue of the Oregonian
Homework for homeless kids
July 8 issue of the Seattle Post-Intelligencer
Roving shelter wins over neighbors
July 3 issue of street roots
Voices of the street get heard
We're homeless, not criminals
Homeless have right to organize to change stereotype
Editorial: Local media cast homeless as violent
June 30 issue of the Oregonian
A home or a place to camp?
June 15 issue of street roots
Radio host takes homeless issue to heart
You snooze, you lose
Homeless street count tallies 1500
Arrests puts spotlight on homeless violence
June 14 issue of the Oregonian
Dignity Village, landowner discuss deal
June 13 issue of the Oregonian
Portland's barbaric street life
June 6 issue of the Oregonian
Teacher creates good Samaritans with $50 bills
June issue of D Magazine
In the houses of the houseless
May 22 issue of Portland Mercury
Peace Camp news
May 2 issue of street roots
When we stop hiding homelessness, we can start solving it
Stop the war against the poor
May/June issue of Little Beirut
A Lumpen Vanguard
May issue of street roots
Dignity documentary part of 'village' toolkit
May issue of the Dog Nose news
Gypsy Cats
May 2 issue of the Oregonian
Still short of a home Dignity Village, a community of homeless people, continues its search for permanence
May 1 issue of the Sacramento Bee
Protest over anti-camping law
April 17 issue of the Portland Mercury
Camping With Vera
April issue of Street Spirit
Ongoing Saga of Dignity Village
"Subject to 24 hour notices?" But we pay rent!
April 3 issue of Sacramento News & Review
Arrested Development
April issue of street roots
Come In Boni Fram Toronto
March/April issue of Homeward Bound
SHOC pressures Sacramento to set up a tent city
March issue of street roots
Sacramento homeless try to copy Portland
Winter 2003 issue of StreetViews Magazine
Continuing the "tent cities" discussion
February
Articles from Ashland's Daily Tidings newspaper
February 17
An entry which will soon appear in a dictionary of social movements.
January 30, Sacramento News and Review
A letter to the editor says "Let them live", a response to "It takes a different village"
January 22, Portland Observer
Thousands Rally For Peace
January 16, Sacramento News and Review
It takes a different village
January 6, Sacramento Bee
Sacramento denies tent city for homeless
January 6, Oregonian
Marc Jolin: Defending Dignity Village; view either as printed or unabridged online version
January Groundswell newsletter
Civic Dignity
December issue of Waking Planet Chronicles
Waking Planet Peace Flag Awarded to Homeless Community
December 19, Oregonian
Dignity Village is not a solution
Ah, the kept press. They take money for our ads and slam us in their mean-spirited editorials.
December 16, Oregonian
Homeless options do exist in city
December 9, Oregonian
Dignity Village tries publicity
November 26, Oregonian
Students scale the barricades in the name of dignity
November 6, Hood River News
Dignity Village residents enjoy dinner and a show
Les Miserables article
'Dignity' Thanks, letter to the editor
October 25, The Talon
Les Miserables brings message of hope to homeless
October 2, Hood River News
Real People, Real Situations
September 19, Real Change News
News You Can Use
September 18 issue of Willamette Week
Duke of Dignity Village
What Homeless Problem? by John Hubbird
Sept-Oct issue of New Connexion
Dignity Village Receives National Recognition
September 10, 2002
Dignity Village gets another extension from The Oregonian
September Issue of street roots
Dignity Village strives for permanent status
Aug 7, 2002 issue of Willamette Week
Qwest to the Rescue?!
Aug 6, 2002 issue of the Oregonian
Lasting site eludes camp for homeless
July 11, 2002 issue of Now magazine.
July 8, 2002
News update by soldier Ross
July issue of New Connexion editorial.
July issue of YM Magazine gives a mention of Dignity Village.
June June 17, 2002
Benefit press release
June 13, 2002
Dignity's Last Stand -- Again! from the Portland Mercury. June 10, 2002
Press Release
June 6, 2002 "Oregon Considered" on OPB
Dignity Village Hopes for Extension
June 6, 2002 issue of The Oregonian
Portland likely to give Dignity Village until September to move off city site
June 4, 2002 issue of The Oregonian
Dignity Village seeks extension at city property June 3, 2002
Benefit
June issue of street roots
Dignity Village approaches moving day by Damon Clark
Dignity Doings by Patricia L. Annis
Thursday, May 30, 2002
Real Change calls us refugees.
May 2002 issue of Architecture.
Dignity is featured in terms of its amazing architecture.
May 2002 issue of street roots
Environmental Middle School helps Dignity Village - The Village forges a partnership with school to bring gardening and food to Dignity residents May 6, 2002
Right to Sleep Summit
Apr 16 - May 2 issue of Real Change
Fire and Brimstone - A letter from a Pastor to the President
An Open Door, An Opened Heart - Churches say hosting Tent City gave them new life
April 15, 2002
News Flash
April 8, 2002
Dignity's Kow for Kids
Wednesday, April 24, 2002
Willamette Week gets most of its facts right in New Digs for Dignity.
Friday, April 5, 2002
A Place for Dignity from the Spring 2002 issue of Yes! magazine
Thursday, March 28, 2002
Roving tent city can build on its legal foundation - Seattle becomes the first West Coast city to adopt a progressive policy towards its tentcity as Tent City III there becomes "legal."
Monday, March 25, 2002
Santa Cruz Homeless Summit May 3rd-4th
Monday, March 18, 2002
Allegations from Old Town -- an artist's statement, by Alex Lilly
Wednesday, March 13, 2002
The Homeless Summit from Santa Cruz Metro
Monday, March 4, 2002
Vera's Deaf Ear -- "Are You Poor? Mayor Katz Doesn't Care", by Phil Busse in the Feb 28, 2002 issue of the Portland Mercury.
Friday, February 8, 2002
A Letter to the Mayor and City Council
Magic Lessons
In Dignity there's a Watchdawg, a Ken Two Dawgs, a Coyote Rose. And then there's the one Dog Dave...
Published February 2002, in the Dog Nose News
Dignity Village - New Oregon Trail?
If Oregonian's and others are right, the future really does belongs to... REAL EVERYDAY PEOPLE.
Published December 29, 2001 in Poor Magazine
Homeless Believe It Takes a Village to Raise Dignity
Street-dwellers create an independent, self-goverened camp in Oregon, and they want to make it permanent.
Published December 29, 2001 by Kim Murphy in the L.A. Times
Dignity Village creates a new model for helping
Dignity supporter John Hubbird throws a little light on the current situation.
Published December 3, 2001 in the Oregonian
What They Were Thinking
The New York Times Magazine interviews Dignity residents Chris and Bean.
Published December 2, 2001
Dignity Village buys six months
A private donation allows the extended use of the current site near the airport.
Published in December 2001 street roots
The village grows; the dignity dwindles
What happened to Eugene's tent city a long time ago.
Published November 25, 2001 in the Oregonian
The rebuttal the Oregonian refuses to print
Dignity supporter, John Hubbird, responds to the Oregonian's October 27th editorial.
November 2nd, 2001
Blind to vision of Dignity Village
I wish I could wave some sort of a magic wand so that you might realize that Dignity Village residents are "good guys" -- part of the solution to people experiencing homelessness, not the problem!
Published November 1st, 2001 in the Oregonian
Self-determination the goal
Dignity Village works because of its organizing methodology. That the powers-that-be dislike us proves only our effectiveness. Few (cared) about the homeless until the homeless organized themselves, educated themselves and formed a community.
Published Novemebr 1st, 2001 in the Oregonian
Thrills, chills and rumor mills
The City of Portland once again pulled off an 11th-hour peace treaty with the residents of Dignity Village, which allows the tent city to stay at Sunderland Yard, a city-owned 7-acre parcel near PDX, for up to six months.
Published October 31st, 2001 in the Willamette Week
Dignity Village may stay put
Dignity Village, the tent city next to Portland International Airport, will be allowed to stay put for six more months after a local philanthropist agreed to pick up the tab.
Published October 30th, 2001 in the Oregonian
Donor buys time for Dignity Village residents
Dignity Village, the tent city comprised of homeless people, will be allowed to stay near the Portland International Airport for six more months after a local man agreed to pay the city about $20,000 to cover the cost of moving its leaf-composting program.
Published October 30th, 2001 on KGW.com
Dignity Village falls with the leaves
The city has required that the residents of Dignity Village move from their current home on Sunderland Road as of Nov. 1 to make room for a new tenant -- the fall foliage.
Published October 29th, 2001 in the Oregonian
Village in the vanguard
For the past six weeks, Portland's fascinating experiment in creating a society from scratch has gathered itself into an important new architectural and political form.
Published October 28th, 2001 on KGW.com
Visiting indignity on SE Portland
The latest edition of the Oregonian's editorial smear campaign against Dignity Village.
Published October 27th, 2001 in the Oregonian
Dignity's move concerns SE neighbors
Residents of the Creston-Kenilworth neighborhood spoke out loudly this week against the camp moving into a vacant parcel in the 3000 block just south of Powell Boulevard.
Published October 25th, 2001 in the Oregonian
Direct Action is Contagious
A history of Dignity Village by the Portland Surrealist Group.
Published October 2001
Portland anti-camping ordinance in legal limbo
The city's 20-year-old anti-camping ordinance remains in limbo following the recent dismissal of an appeal of a court decision that ruled the ordinance unconstitutional.
Published October 19th, 2001 in the Oregonian
What doesn't kill you
When the homeless encampment known as Dignity Village was ostracized in late August from its site underneath the Fremont Bridge, most observers believed that would be the whimpering conclusion to the eight-month attempt at establishing a camp for the city's homeless--run exclusively by the homeless.
Published October 18th, 2001 in the Portland Mercury
Splintered Dignity
Last week's showdown reveals that there's a good reason they didn't call it Unity Village.
Published September 12th, 2001 in the Willamette Week
Dignity Village relocation: one supporter's personal views
John Hubbird gives a fresh perspective on the decisions villagers had to make on September 5th.
Originally published September 12th, 2001 on Portland Indymedia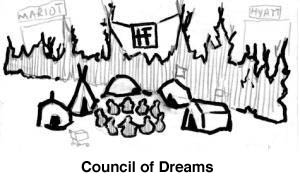 Some ex-Dignity Village residents set up new site, protest treatment
A small group of former Dignity Village activists has set up tents and protest signs on public property overlooking RiverPlace in Southwest Portland in what the activists call an ongoing protest of the city's approach to homelessness.
Published September 11th, 2001 in the Oregonian
In Oregon, a city provides public land for homeless
Dignity Village receives coverage in the New York Times.
Published September 10th, 2001 in the New York Times
Work party will fix up Dignity Village's new home
Dignity Village residents and volunteers will gather Sunday morning to hold a work party to make improvements on the new tent city in Northeast Portland.
Published September 8th, 2001 in the Oregonian
Dignity Village residents pick up and move to Portland-picked site
Most of Dignity Village's residents cleared out from a state-owned piece of land in Northwest Portland on Wednesday, avoiding a confrontation with authorities and ending a standoff with city officials.
Published September 6th, 2001 in the Oregonian
Shelters' roles dictate variety of conditions, defenders say
Those who run Portland's homeless shelters acknowledge the facilities aren't perfect. But they also question assertions made by some residents of Dignity Village that the shelters are dirty, overly restrictive and not geared to the needs of the homeless community.
Published September 5th, 2001 in the Oregonian
Holding their ground
After last-minute negotiations and a fragile truce with City Hall, the men and women of Dignity Village trashed a cut-rate deal to relocate their makeshift camp.
Published September 5th, 2001 in the Portland Mercury
Fold the tents
It's time for Dignity Village to break camp -- and members of the Portland City Council should help roll up the sleeping bags.
Published September 5th, 2001 in the Oregonian
Laud effort to build safe village
I was both saddened and offended by Christopher J. Babin's Aug. 28 letter opposing Dignity Village ("No dignity in this behavior").
Published September 5th, 2001 in the Oregonian
Dignity Village to be evicted Wednesday at noon
Police have arrived at Dignity Village. They told residents that they must vacate the site by noon Wednesday, which is a 24-hour extension of the last deadline given by the city. Anyone still there at that time will be subject to arrest and all possessions subject to seizure.
Published September 4th, 2001 in the Oregonian
Dignity Village votes against move
With the threat of police sweeps looming, Dignity Village residents said Monday they wouldn't move to city-owned land near Portland International Airport because of the site's fencing and its distance from a grocery store and other services.
Published September 4th, 2001 in the Oregonian
In defense of Dignity
There is a certain nomadic and pioneering spirit that needs to be admired when people choose to work and live outside of society's given options.
Published September 3rd, 2001 in the Oregonian
Panhandling taxpayers accepted
Apparently, the city has no time to work with the self-organized residents of the Dignity Village experiment . . . However, the city has all the time in the world and $35 million to work with the wealthy investors of Portland Family Entertainment.
Published September 3rd, 2001 in the Oregonian
Choosing the diving board or a place to land
Oregonian columnist Steve Duin suggests if you are "outraged Dignity Village doesn't conform to the tedious zoning and building requirements that control so much of the action in Northwest Portland. And they are convinced these squatters prefer autonomy to low-income housing . . . you may want to get off that fat seat cushion and wander out to the village before it's dismantled."
Published September 2nd, 2001 in the Oregonian
Council backs Dignity Village
Portland's City Council agreed Thursday to take a first step toward officially endorsing the Dignity Village tent city for the long-term, while village residents reluctantly agreed to move to a city-mandated temporary site that village supporters described as a "concentration camp" and a prison.
Published August 31st, 2001 in the Oregonian
Friday, August 31st, 2001
Dignity Village's move will be postponed
Friday, August 31st, 2001
Tibetan Bhuddist Ceremony for Dignity Village
Time to shut down the village
Leaders of the homeless tent camp, Dignity Village, aren't thrilled with the new location that the city is offering them in Northeast Portland, and you can see why. Let's just say it's in no danger of being featured on Sunset magazine's next list of hidden camping gems.
Published August 30th, 2001 in the Oregonian
City offers a questionable site for Dignity
Portland city leaders said Tuesday they want Dignity Village, a tent city for the homeless, to move to a site near Portland International Airport's runways for 60 days.
Published August 29th, 2001 in the Oregonian
Council renews affordable housing effort
When it comes to providing housing in downtown Portland for the poor, the city's goals are modest: to have "no net loss" of apartments affordable to the lowest-income families, even as the number of middle- and upper-income housing units increases.
Published August 28th, 2001 in the Oregonian
Tent city prepares for new location
Members of the Dignity Village tent city have agreed to move from their current encampment in Northwest Portland next week and will begin breaking up communal kitchens and other facilities on Sunday.
Published August 25th, 2001 in the Oregonian
Dignity camp supporters pledge help
Supporters of Dignity Village packed into the Sisters of the Road Cafe on Tuesday afternoon to pledge time, money and political energy in an effort to find a permanent site for the tent community.
Published: August 22nd, 2001 in the Oregonian
Gimme shelter
The Oregonian's editorial board continues to criticize Dignity and its supporters.
Published: August 22st, 2001 in the Oregonian
Digsville Farm
Digsville Farm: Brush Prairie family donates land for a garden that supports a homeless camp in Portland
Published: August 2001 in the Vancouver Columbian
Wednesday, August 22nd, 2001
Dignity Village press release
Monday, August 20th, 2001
Digsville Farm Celebration
Wednesday, August 1, 2001
Dignity Village Update
Digsville
Life and times at Digsville, Dignity Village's co-operative farm, by Street Root's Jay Thiemeyer.
Published: July 2001
What's a nice girl like you doing in a place like this?
Street Roots' Jerry Martin interviews four women from Dignity Village.
Published: July 2001
Officials succumb to the power of the people and Dignity Village is granted an extension and begins negotiations for 1 year deal
Street Roots' Jerry Martin covers the shift in Portland's policy on Dignity Village.
Published: July 2001
Angels Needed!
Miriam Knight editorializes about Dignity Village's need for private land in the Community Connection.
Published: July 2001
Dignity Village promotes human rights
Village supporters respond to the Oregonians July editorial assault, by Orion Gray and Jamie Manuel.
Published: Monday, July 9, 2001
Monday, July 9, 2001
Dignity Village Update
Camp Dignity: Portland's Homeless Community Fights To Improve Their Living Conditions
Pete Lewis writes about Dignity's past and present in an article taken from Clamor magazine.
Published: July 1st, 2001
Maintaining Their Dignity
Richard Hake talks with supporter John Hubbird and villager Jack Tafari on WNYC's On The Line.
Published: June 29, 2001
Meet deadline, with Dignity
The Oregonian's editorial staff expresses concern for the unspecified rights of Dignity Village's neighbors.
Published: Thursday, June 28, 2001
Digging in the dirt
Courtney Sherwood of the Portland Mercury writes about Digsville, Dignity Village's farm.
Published: June 28, 2001
Dignity Village can stay for now
The City is working with the tent city's leaders to find a way to let otherwise homeless campers use public land for as long as a year .
By Wade Nkrumah of the Oregonian
Published: June 28, 2001
Wednesday, June 27, 2001
Community potluck at Dignity Village
Oregon-Live talks with Cheif Kroeker, Mayor Katz, and Dignity Village supporter John Hubbird about Dignity Village
Part I, with Cheif Kroeker, is not available.
Part II
Published: June 26, 2001
Dignity Village, City aim for compromise
Ongoing negotiations or a Saturday deadline will go a long way toward deciding the fate of Dignity Village. But parts of a plan that could allow the tent
city to stay on public land for as long as a year will be discussed today, when village leaders meet with Police Bureau officials.
Published: June 26, 2001
It Takes a [Dignity] Village
M.R. Lee writes about Dignity Village in the Portland Tattler
To be published on Monday, June 25, 2001
Going the Distance
Courtney Sherwood writes about Dignity Village in the Portland Mercury
Published: June 14, 2001
Dignity Villagers building sense of community
The Oregonian talks to residents about Dignity Village.
Published:Monday, June 11, 2001
Don't sweep these people back under bridges
"Dignity Village has proved itself and deserves a future in Portland ", says the Oregonian.
Published:Saturday, June 9, 2001
Saturday, June 9, 2001 - 11:43
Dignity Village meet with City official s
City Hall seeks end to Dignity Village Dignity makes front page of Street Roots.
Published: June 2001
Talented Portland artist dies in a doorway
Jack Tafari says a few words about the death of Kevin Hull in the June issue of street roots.
Temp camp should fold peacefully
Oregonian article on the choices Dignity faces with the July 1 closure threat.
Published: Thursday, June 7, 2001
Tuesday, June 5, 2001
Olympic gold medalist onboard
Sunday, June 3, 2001
JP Cupp free at last!

An Open Letter to Mayor Vera Katz and the City of Portland
Dignity residents request reconsideration of the proposed dissolution of Dignity.
Letter Dated: June 1, 2001
Homeless Again?
The Portland Mercury covers the July 1st deadline. (second article on page)
Published: Thursday, May 31, 2001
Dignity Village faces July 1 closure date
The Oregonian reports Dignity Village must move from public land by July 1st.
Published: Wednesday, May 30, 2001
Dignity Village ... holds Teach In to raise awareness
Portland Indie Media reports on "Teach In" announcement, along with running commentary.
Published: Saturday, May 26, 2001
Monday, May 21, 2001
DIGNITY VILLAGE ALERT!
Adam Holdorf's article about Dignity Village Experiences and opinion originally published in Real Change News.
City Hall's Hottest Ticket
Mayor of Dignity Village gets best housing deal in town.
Bowman, Linn tout experience at homeless event
The candidates for the county's top job both want to secure a permanent site for Dignity Village in downtown in Legislature, the Oregonian reports.
Published:Friday, May 4, 2001
Let Them Eat Bullets
Willamette Week reports, local chapter of the War Resisters League plan to give about $5,000 to Dignity Village.
Published:Apil 4, 2001
Monday, April 30, 2001
Correckshan
Wednesday, April 25, 2001
Big Parade
Thursday, April 5, 2001
Dignity Village in the news -
In Defense of the Village People
John Hubbird writes in response to Willamtte Week Article: "Return to Dignity."
Published:April 4, 2001
Tuesday, April 3, 2001
So Much Tings A Gwan
Dignity Breeds Success
Street Roots reports, organization of Dignity Village residents inspires respect in the community.
Published: April 2001
Camp for Portland's homeless to be uprooted again
The Oregonian reports, Dignity Village organizers hope to relocate the tent camp to private land and end frequent moves.
Published:Sunday April 1, 2001
The First Annual Anarchist Awards
From the Portland Mercury, including a nomination for Dignity Village.
The Truth about John Reese
A letter to the editor of the Willamette Week.
A letter from Dignity Village
A letter to the editor of the Portland Tribune.
How the Other Half Lives
A Photo Essay Documenting Portland's Homeless (in the Portland Mercury).
Wednesday, February 21, 2001
Poor people do it for themselves
Wednesday, February 7, 2001
Transmission
Dignity Village Thrives
Campers see an outpouring of support.
Who We Are
We are a little village named Dignity. ...
Moving Ever Forward: DIGNITY VILLAGE
Coverage of Dignity Village by Portland Indie Media, with running commentary.
Published:Tuesday, January 9, 2001
Camp Dignity is no indignity, it's an answer
Letter to The Oregonian (1/27/2001) asks: The homeless tent camp fills a need, beds for people who need them, at no cost to the City; so what's the problem and concern here?
Thursday, January 25, 2001
The Village moves again
Tent City
from the Portland Mercury
The Future
Know that the kernel of the future lies buried in the present.
Camping still banned in Portland
Portland Police continue to enforce the camping ban despite a circuit court ruling finding it unconstitutional.
Out of the Doorways by Christmas
Have you heard the good news, homeless people? We are coming out of the doorways...
Mutabaruka speaks to Portland's homeless
Landmark decision
Decision made on Sept 27, 2000 by Multnomah County Judge Steven Gallagher who ruled unconstitutional Portland's nineteen-year-old camping ban.
Parking lot sleeps eighteen
Many different kinds of people sleep in the parking lot...
We Need a Tent City
Winter will soon be upon us, homeless people...
Housin' Prablem
Plenty people 'ave a housin' prablem inna Portland.